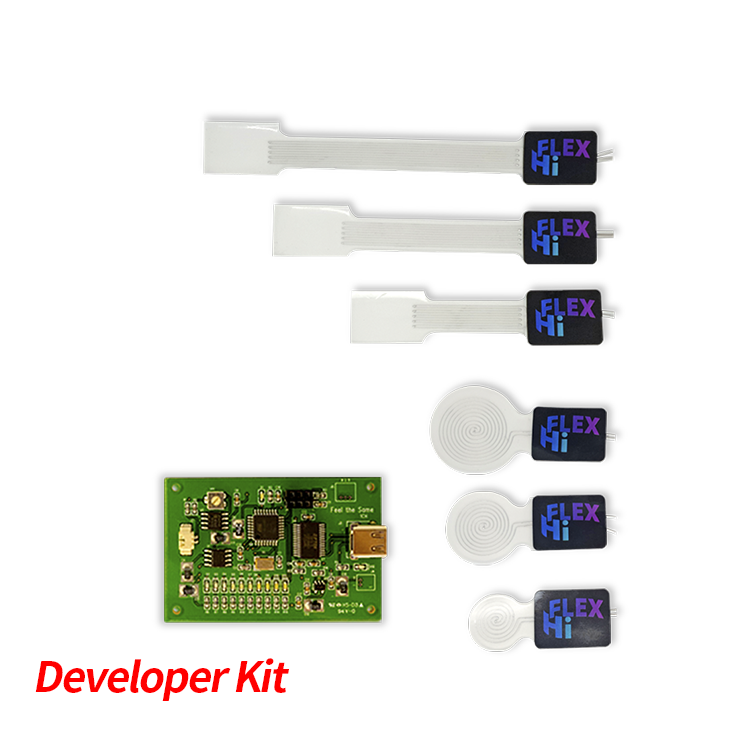 The pattern extends or shrinks against tensile force or pressure, leading to resistance change.
Such resistance change allows assessing tensile strength and pressure.
You can attach it to where needs to assess tensile and pressure since it's modular. No discomfort at all when you apply it to your body because it's soft.
It can be produced in various length and size.
---
Product name : HiFLEX Developer Kit B
Package contents
HiFLEX Pressure sensor (S: 1EA / M: 1EA / L: 1EA)
HiFLEX Strain sensor (S: 1EA / M: 1EA / L: 1EA)
Test PCB (1EA)
---
※ NOTICE
+ Shipping cost for each nation.
We are offering apps that can test performance on Android.

The App can be downloaded from the DEVELOPER.

SDK is still being developed.
Please understand that the order will be shipped within 14 days.

Please note that C to C cables cannot be used.

When connecting cables, you must use a USB to C cable that supports data communication and an OTG gender.

Reference
https://www.youtube.com/watch?v=EOoqk7T-a_E&list=PLRQW7yReHjlTyZ1uZEImCAhGx1n12LFob&index=2