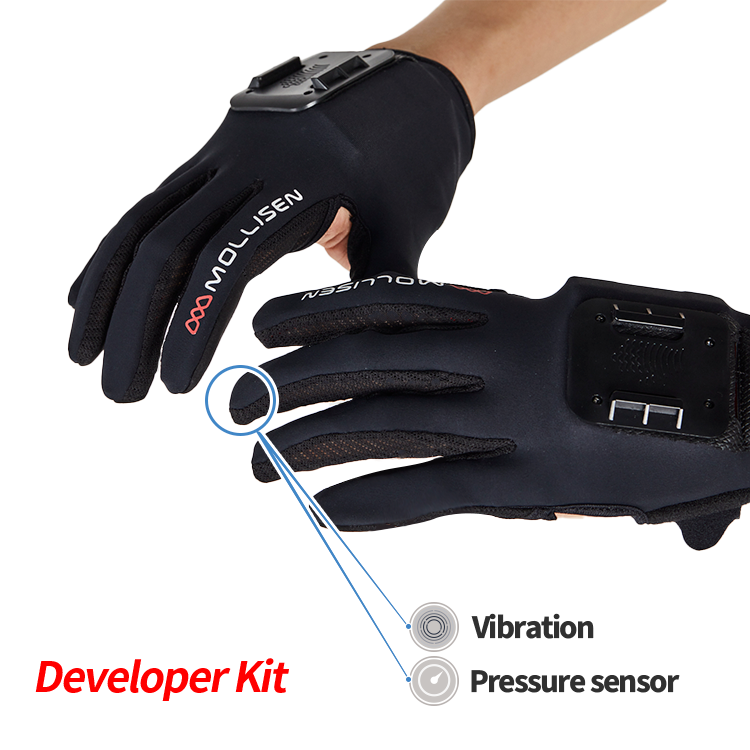 Mollisen HAND (Vib+ / Pre+)
※ Announcement ※

Recently, a price increase has become inevitable due to the price increase of semiconductor parts.

Please refer to the changed price and purchase it.
---
Product description.
Gloves to measure finger pressure!
Use it for your own application, depending on your purpose.
Experience realistic hand motions with Mollisen HAND Vib+ Pre+ built in HiFLEX.
If you purchase more than three units,
please contact : info@ftsame.com
---
Product name : Mollisen HAND Vib+ Pre+
Package contents
Mollisen HAND Vib+ Pre+ (Left, Right)

There are vibrators and pressure sensor on the thumb, index, and middle fingers.

Bluetooth dongle USB (2EA)
VR Tracker attachment clip (2EA)
Inch bolt (2EA)
5-pin USB Charging cable (2EA)
---
※ NOTICE
+ Shipping cost for each nation.
This product is only available in L size.
This product is for developers who support SDK only.
You should refer to the SDK manual on the DEVELOPER.
Please understand that the order will be shipped within 14 days.