All 1,200 seats in six CGV buildings in the Seoul metropolitan area are sold out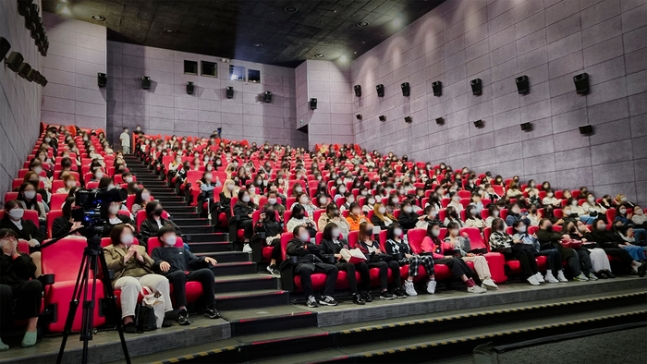 CGV's 1,200 seats, where the Revolution Heart Showcase was held, were sold out. <Picture=Caron Universe>
Korea's first virtual idol group "REVOLUTION HEART" has successfully completed its first album showcase, opening new possibilities for virtual idols, their agency Karen Universe said on the 1st.
Revolution Heart (Jack, Onew, Gemini, Ryu) held a fan showcase at 2 p.m. on the 29th to commemorate the release of their first single album [REVOLUTION HEART 1ST SHOWCASE: TRIGGER] The showcase was simultaneously transmitted to six CGV theaters in the Seoul metropolitan area, and in particular, the heated response of all seats being sold out in 30 seconds proved the high popularity of Revolution Heart.
The showcase was held by Shin Ye-ji, CEO of "Caron Universe," as a VIP stage greeting, and presented a variety of showcase compositions, including the release of the members' new LIVE 2D and the first two versions of the music video of the first single album "TRIGGER."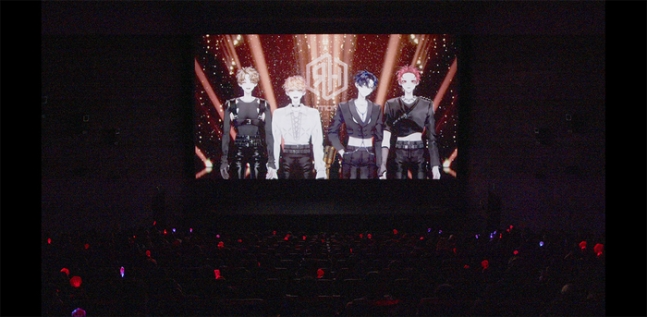 Four revolution hearts appeared at the showcase held at Wangsimni VIP Hall. <Picture=Caron Universe>
Four Buttuber who are active in a one-person broadcast formed a male idol... The official release of "TRIGGER"
In the second music video released on this day, Karen Universe's partner "Fieldersame" participated in person and vividly implemented the actual choreography in 3D, drawing enthusiastic responses from fans. Filderssem is a VR company that utilizes the motion capture system "MELIGO" and has shown sensuous and solid technology through this music video collaboration. In particular, Jack, the revolution heart leader, participated in the choreography in the 3D music video.
"Through this showcase, we were able to fully prove the future potential of virtual idols," said Shin Ye-ji, CEO of Caron Universe. "We will continue to do many activities to lead K-POP, so please pay a lot of attention."
Lee Deok-ju, a reporter at the headquarters (mrdjlee@mk.co.kr)